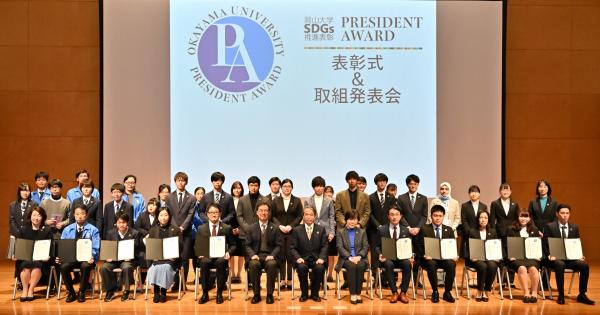 Outline

Okayama University SDGs President Award
Okayama University SDGs President Award
About Okayama University

 

SDGs President Award
As its Vision 2.0, Okayama University has committed to being a research university for the advancement of SDGs that continues to create and deliver new value from Okayama to the world, and as its long-term vision for 2030, as a research university to pursue Sustainability and Well-being, we create a new value through human resource development and social innovation to the world and the region. By working together with various stakeholders, we aim to achieve the Okayama International Academic Capital boasting exceptional sustainability and inclusiveness.
In order to achieve these goals, and to honor on-campus initiatives that contribute to the advancement of the SDGs and to contribute to the spread and promotion of such efforts, the " President Award" was established in 2020 to recognize efforts by faculty, staff, and student groups to achieve the SDGs.
<

Academic Year 2021>
In order to encourage and promote efforts on-campus to the SDGs, we applicated from faculty, staff, and student groups in the following four categories: Education, Research, Workfield and Student group. Application Guidelines and Form are following below.
Application Guidelines / Application Form / Application Form Attachment
Application deadline: October 8, 2021
<

Academic Year 2020>
In order to encourage and promote efforts on-campus to the SDGs, we applicated from faculty, staff, and student groups in the following four categories: Education, Research, Improving workplace environment and Student group. The application period was from November 10, 2020 to December 25, 2020, and we received 25 applications. The following is a list of initiatives that received awards. The award ceremony was held on March 10, 2021, at the Okayama University 50th Anniversary Hall.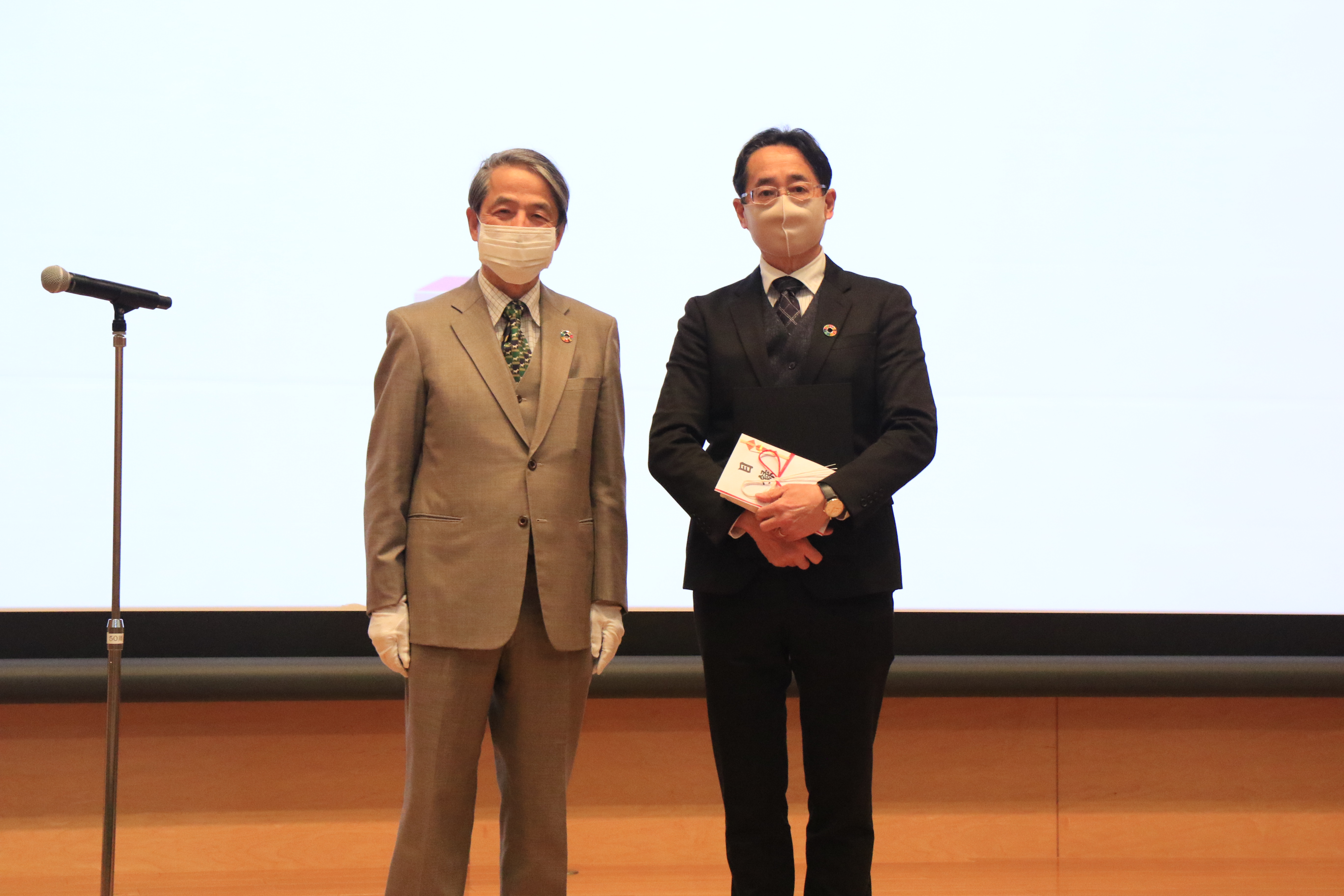 Four Excellence Awards
Education
"SDGs-Orientated Educational Program Focusing on Glocal Development and Regional Cooperation"
Research
Okayama prefecture's COVID-19 cluster Intervention Team (OCIT)
"Prevention of Infection and Cluster Control of COVID-19"
Student Groups
Okayama University TABLE FOR TWO
"TABLE FOR TWO"
"Supporting Japanese language Education and Cultural Exchange Among Vietnamese Technical Intern Trainees"
12 Encouragement Awards
Education
All faculty and staff of the Junior High School Attached to the Faculty of Education
"Curriculum Management for Developing Creators of a Sustainable Society"
YOSHIKAWA Miyuki of Institute for Education and Student Services
"A Practical Social Cooperation Education Subject That Considers Contributions to Regional Revitalization in Mountainous Regions"
ABE Masanobu, SAKAKURA Akira, KAWAHARA Nobuyuki, MIZOGUCHI Haruki, OSAKA Akiyoshi and NAKAMURA Yuri of

Faculty of Engineering
"East Asia SDGs Online Seminar"
Research
Sakou's

laboratory of

Faculty of Education
"The Disaster Prevention Dance Development Project"
TAKAGUCHI Yutaka, TAJIMA Tomoyuki of

Graduate School of Environmental and Life Science, KANO Jun of Graduate School of Natural Science and Technology and ORITA Akihiro of Okayama University of Science
"CO2-Free Hydrogen Production by the use of Carbon Nanotube Photocatalyst and solar energy"
Next Generation Research and Development Group (Battery)
"Contributing to the Spread of Clean Energy Through the Development of Next-Generation Energy Storage Devices"
Student Groups
Okayama University Hoyukai
"Practice of Legal Education by Law Students"
"The Hult Prize Okayama University Competition for the International Business Contest Was Held for the First Time
More Than 150 People, Including Students, Faculty, and Staff, Were Involved in Creating Connections to Work on the SDGs"
c4c (community for children) 2019 ver
"Local Junior High School Students' Film Production in Collaboration With Community Center!"
Kuwanoki Dormitory for international student's resident assistant
"Donation System in International Student Dormitories"
English Education of Faculty of Education
"Tamano Student Guide Training Program: Aiming to Promote Cooperation and Collaboration between School Education and Social Education"
TAMASAKI Aoi, Nagaileben co., Ltd.
"Remaking Nursing Practice Clothes"