Development of ultra-compact inverter for next-generation EVs
In addition to being zero-emission vehicles, electric vehicles (EVs) play an important role in achieving the SDGs in the fields of disaster prevention and mitigation, energy management, and urban development.
To increase the added value of EVs and promote their widespread use, it is expected that an in-wheel motor, in which a motor and its drive circuit, namely an inverter, are embedded in each wheel, will be commercially practical. The key to realizing an in-wheel motor is how small the inverter as well as the motor can be.
In this research, by effectively utilizing an aluminum double-sided substrate, we achieved the following, thereby making the inverter unprecedentedly small:
•Reduction of heat generation in semiconductor devices by decreasing the inductance of the circuit, and
•Effective cooling of the heat generated in the semiconductor devices.
By further improving this technology, the emergence of new EVs with built-in in-wheel motors has become more realistic.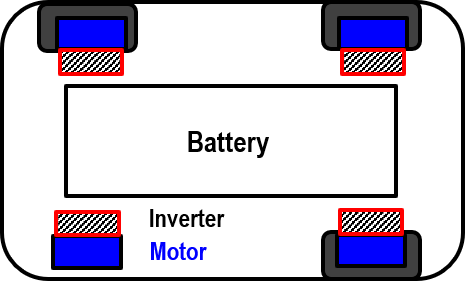 Conceptual diagram of EV with built-in in-wheel motor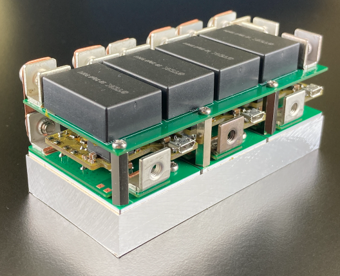 Ultra-compact inverter currently under development