Ground and water environment survey for stable crop production
Background and purposes

In northeastern Thailand, which covers about 1/3 of the country's total land area, agriculture is dependent on rainwater. Annual precipitation in this region ranges from 1,000 to 2,000 mm; however, most of the rainfall is concentrated during the rainy season, which in some years starts late and has less precipitation. For this reason, crop production is significantly unstable. To ensure stable agriculture, it is necessary to secure water resources. Focusing on soil moisture and groundwater as water resources, we aim to conduct a survey of the ground and water environment both in the rainy and dry seasons and work with local farmers to explore new water resources.

Overview of activities

We measured soil moisture and groundwater levels and observed micrometeorological data in the local field. Based on these data, we estimated the amount of water resources available.

Expected effects

If soil moisture and groundwater can be utilized during the dry season, crops are expected to be produced stably even during the dry season, which will help to stabilize farmers' income to improve their livelihood.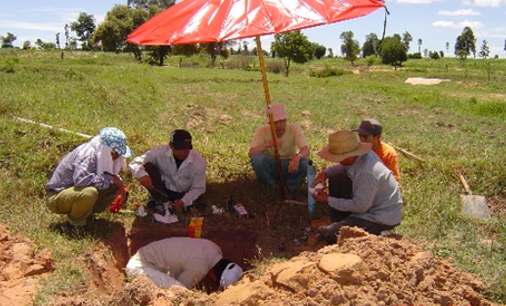 Ground and water environment survey
A scene from a farmers' meeting

Distribution of soil moisture during the dry season