Okayama University Holds Opening Ceremony for US Department of State's Online Summer Critical Language Scholarship Program
On June 10th, Okayama University held an opening ceremony for the Online Summer Critical Language Scholarship (CLS) Program, an intensive Japanese language and culture training program offered to outstanding American undergraduate and graduate students selected by the US Department of State. Okayama University has been designated as a host institution for the program since 2019. In consideration of the ongoing global pandemic and the fact that students are not able to travel to Japan, the 8-week program is being offered online for the second year in a row, from June 15 to August 7. This year, 32 undergraduates and graduates from all over America are participating in the course.

The opening ceremony was hosted by Okayama University via video link and was attended by students, American representatives, and Okayama University personnel. Okayama University President MAKINO Hirofumi gave the opening remarks, stating, "This year's CLS program is centered around the SDGs, and it is my hope that by participating in classes and cultural activities, you will expand your thinking through exposure to various sustainable development efforts in the local city of Okayama, and through the opportunity to meet people with different values and perspectives." Afterwards, CLS students were introduced to Okayama University personal and were asked to give a brief self-introduction. Student representative Natasha RIEGLE, who is participating in the program for the second time, spoke about her future aspirations, saying, "In the future, I hope to work for the American federal government, so I am grateful for the opportunity to take part in this program again. I will do my best to learn and grow as I study Japanese language and culture, learn about SDGs initiatives in Okayama, and interact with classmates from different backgrounds."

Apart from online language classes, the CLS online programs also provides opportunities for students to interact with language partners from Okayama University. Additionally, under the theme of the SDGs, students can participate in virtual experiences simulating off-campus activities, including a virtual tour of the Faculty of Environmental Science and Technology's conservation area, an introduction to Yakage Town and Kagura in an interactive online session with students from Yakage High School, online activities hosted by Kyoyama Community Center, and a virtual tea ceremony led by a tea ceremony master.
 

●CLS program
The CLS program is a US Department of State initiative aimed at encouraging young Americans to become proficient in one of 15 languages, including Russian and Chinese, which have been recognized as critical to America's national security and economic prosperity.
Domestic acceptance to the program began in 2010, and the program is run by the American Councils for International Education, a US non-profit organization specializing in international education and exchange.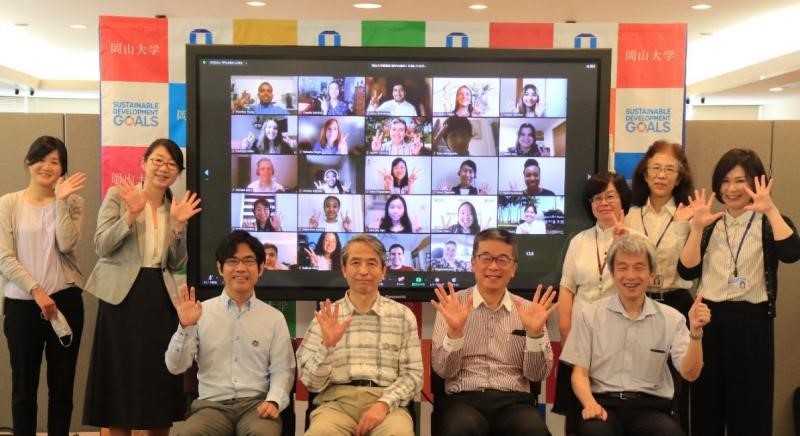 ---