Development of SDGs-oriented Practical Education Program for Regional Revitalization
Social Background
From the view point of sustainable utilization of natural resources, the education and research of "Agricultural Science" are deeply associated with the sustainable food production and include the various Sustainable Development Goals (SDGs). The development of new education program oriented toward regional revitalization based on Agricultural Science is an urgent issue, and the application of the results obtained from the program to agricultural field or stock farm should be significant to achieve the SDGs associated with Agricultural Science.
Objectives
One objective of this program is to promote the global expanding and deepening of the agricultural science power involved in the revitalization of regional communities on a global scale. Another objective of this program is to foster human resources that can contemplate how to revitalize the local region or society from the point of view of agricultural science.
Overview
This program takes aim the development of a new active learning class discussing the regional revitalization from the view point of agricultural science, and this class consists of students, ordinary citizens, farmers, and lecturers invited from several universities, governments, and private companies. Based on the practical knowledge harvested in this class, students and staffs of Okayama University address the following challenges; (1) developing sustainable agricultural form, (2) establishing a sustainable cycle of production and consumption of agricultural products, and (3) developing a preserving strategy of wildlife in terrestrial ecosystem and sustainable utilization of the ecosystem.
Expected outcomes
We can expect that this program can foster students that are able to contemplate the regional revitalization from the global view point of agricultural science and apply the knowledge acquired to the practical field-works.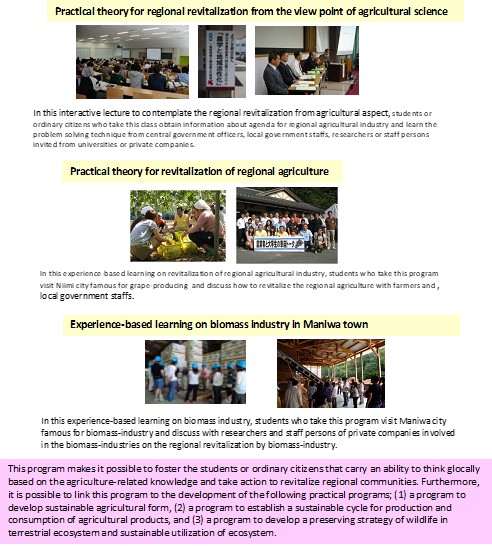 Staffs