Wisdom and Network Energy Framework in Okayama
Okayama prefecture has rich resource of renewable energy. We will utilize the wisdom of Okayama University effectively and think about optimum usage form of energy to solve regional problems and disseminate the technology and knowledge to the world. It will contribute to achieve "Going beyond, toward a fruitful academic capital." Specifically, we will present a vision on urban transport policy in Okayama city and other areas in Okayama ​​prefecture and propose low-carbon urban transportation model harmonized with public transportation and individual traffic. Through these actions, we aim to make concrete proposal concrete to realize the sustainable society according to the concept of ESD and SDGs.
In the future, we will promote the sustainability of the community through investigation research and empirical research such as;
Utilizing GPS and location information to limit the driving area to closed areas
Expanding the usage range of Electric Vehicles
Providing priority parking areas and benefits to EV users who contribute to environmental and cultural preservation
Devising a charging point installation method to eliminate psychological anxiety of charging
In addition, as a result of this research, the research group was established. The demonstration experiment of ultra-small EV has been conducted in Okayama city, and other experiments are under way in Tsuyama city and Mimasaka city.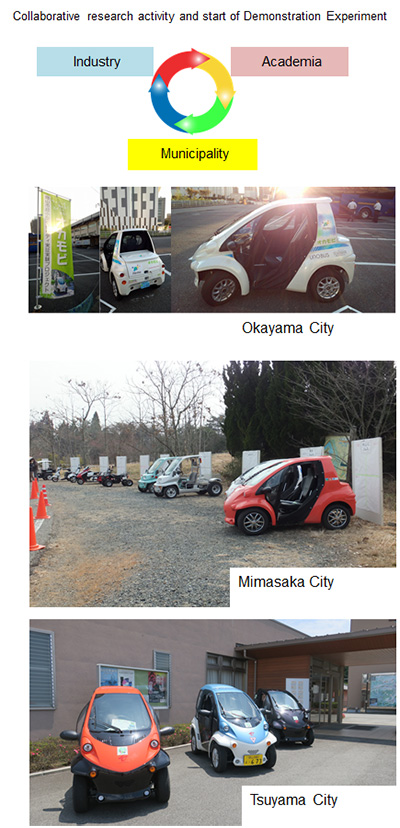 Staffs