The multidisciplinary approach to fertility preservation for young cancer patients with local medical network
Background
Young patients diagnosed with cancer may have concerns the risk of loss of fertility due to cancer treatment which may influence on the treatment decision. It is a significant problem for younger cancer patients that cancer treatment may affect on their fertility.
Our active counseling system 
We have started the pretreatment active fertility counseling about influence of systemic therapy and fertility preservation (FP) for the young cancer patients who want to bear children from April 2009. Our counseling system is performed by breast care nurse, oncologist and gynecologist.
Our Mission
We preserve fertility of young cancer patients with standard adjuvant therapy, safety.
We make close network between oncologist and gynecologist .
We develop the special counselor with knowledge about both cancer and reproduction.
Our mission to provide
To improve the survivorship of young cancer patients.
To improve the decline of birthrate in Japan.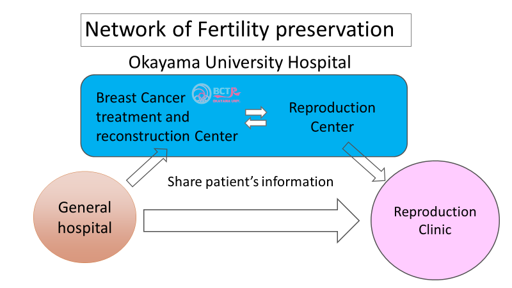 Related Sites
Cancer and Reproductive Medicine Network OKAYAMA: http://www.okayama-u.ac.jp/user/ofnet/
Okayama University Hospital Reproduction Center: http://www.okayama-u.ac.jp/user/repro/
Okayama Prefectural Special Infertility Counseling Center: http://www.cc.okayama-u.ac.jp/~funin/
Staffs