Good Job Support Center initiative for workplaces where people with disabilities can be active
The Good Job Support Center, which was established in April 2009 based on the Okayama University Diversity Policy, has grown into a workplace with 60 people with disabilities and 22 support staff who facilitate the working situation.
To create an environment in consideration of the characteristics of disabilities to enable each worker to show their ability to the fullest, the Center performs a work aptitude assessment upon employment and considers support methods based on an understanding of the particular disability and the individual concerned, and allocates supporters to ensure a comfortable working environment in cooperation with other expert organizations, if necessary.
For example, the Center has supported the agricultural work of the Field Science Center, Faculty of Agriculture, Okayama University since its foundation. In 2013, the Center was fully entrusted with the sales of agricultural goods at the shop in the Center. After that, not only did the productivity of agricultural goods improve, but the loss in sales was reduced by improving the product value through great-looking packaging. The sales revenue is increasing stably.
These efforts at the Good Job Support Center help Okayama University achieve the legal employment rate of people with disabilities as well as increase revenue through business activities. We aim to create a workplace where people with disabilities can work together with staff members with diverse backgrounds and show their ability to the fullest.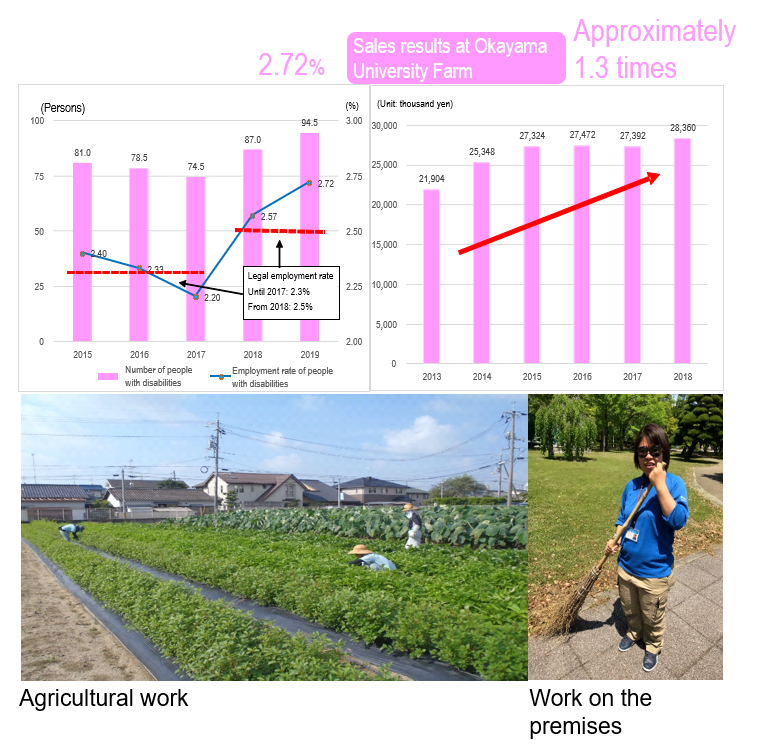 Staffs