Providing lifelong learning for children, students and citizens making use of valuable materials housed by Okayama University Library
The Ikeda Family Collection (Ikedake Bunko) contains approximately 100,000 records and documents that had been owned by the Ikeda clan, the fief lord of Okayama. We use these records and documents not only for our Japanese historical studies, but also for children's education and lifelong learning as a regional common asset.
We have held more than 10 exhibitions of maps/drawings (ezu) in collaboration with regional museums, encouraging citizens to rediscover local history. Furthermore, a public program "Let's walk Okayama with Ikedake Bunko Ezu" was made by incorporating a fieldwork-like element of comparing present-day Okayama with Okayama in the Edo period (1603 to 1867). It encourages participants to rediscover the attractions of their towns.
In the "Okayama Korakuen Workshop for Children," held in the first term of academic year 2018, 13 elementary and junior high school students (plus 13 parents) participated. In the program, participants compared ezu drawn approximately 150 years ago and the present situation at Korakuen, which is a potential World Heritage Site. In cooperation with the Faculty of Education, an opportunity was provided for students of the Faculty of Education and elementary and junior high school students in Okayama City to interact with each other and learn the importance of historic heritage in their city. In this program, digital data of various Ikedake Bunko Ezu, such as Korakuen Ezu (Picture of Korakuen Garden), were utilized.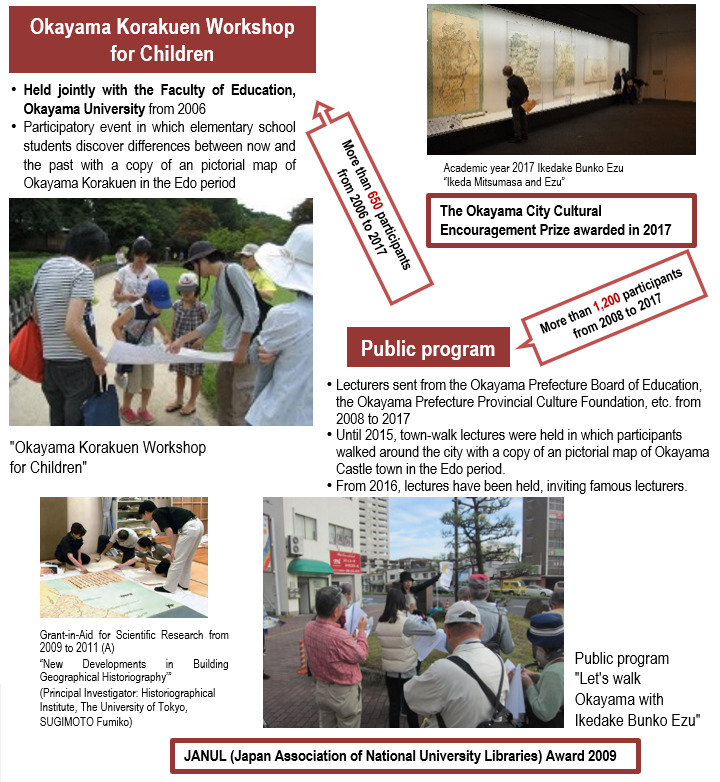 Staffs