Peace education linking with the community and multiple stakeholders -With Okayama Air-Raid sites tour-
Objectives and activities
More than 70 years have passed since the end of World War II, and we have an increased need for fostering young people who can pass down the memories of the war from generation to generation by word of mouth and make efforts to establish peace by their own efforts. We at the Junior High School Attached to the Faculty of Education, Okayama University provide our students with opportunities to experience the Okayama Air Raids vicariously, so as to think of the horror of war and the preciousness of lives in peace through peace fieldwork, leading to the Okinawa Peace Learning in the third year.
The activities in each year are as follows:
(1st year) Students are provided with an opportunity to walk around battle sites near the junior high school, including Tamai-gu Shrine, Daifuku-ji Temple, Jokyo-ji Temple and air-raid shelter sites, and education using materials of the Exhibition Room of the Okayama Air Raids
(2nd year) Tours around battle sites in the center of Okayama City, including Renjo-ji Temple, the Okayama Castle Ishiyama Gate Site, Kotohira-jinja Shrine and Okayama-jinja Shrine, lectures by professional story-tellers, special exhibitions at the school library, digital picture-story shows, etc. are held.
(3rd year) Based on the learning in the 1st and 2nd years, with various guest lecturers, students learn extensively about peace, including the Battle of Okinawa, problems with military bases and national security.
Expected effects
The fostering of students who will voluntarily take action valuing peace and justice, provision of local education, handing down memories of the war, etc.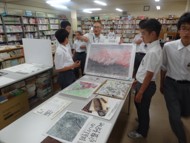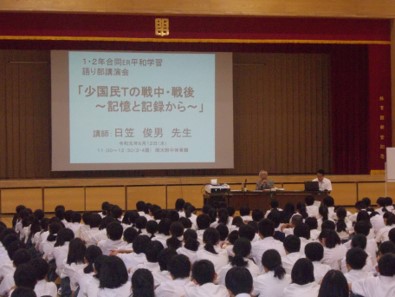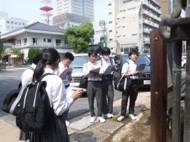 Staffs