Medical Technical Support Projectof Cardiovascular Diseases in Vietnam
Aim to increase number of operation for complex congenital heart disease and expansion of target diseases and patient age
In Vietnam, Approximately 10,000 babies with congenital heart diseases born annually. However, only 40% of them can receive proper medical care.
We accept medical professional teams from our 3 partner hospitals in Vietnam to give trainings. (11 teams as of Feb., 2020) 2 of them are located in Hanoi, 1 is in Ho Chi Minh City. We also send medical professionals, including surgeons, cardiologists, pediatricians, and nurses to give them intensive lectures.
Each partner hospital has 5-6 satellite hospitals to provide guidance in treatment for congenital heart diseases.
Trainees who learnt in Okayama will educate medical professionals in their satellite hospitals. This leads to establishment of autonomous medical professional resource development system for surgical treatment of congenital heart disease by Vietnamese own medical staff.
Our goal is to development medical educator who can perform surgical treatment of complex heart diseases, such as hypoplastic left heart syndrome.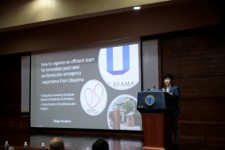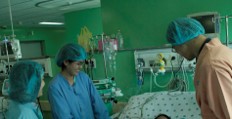 URL
Staffs