Sustainable Medical Education and Research by Roof-Tile Education System
Problems to be solved
In developing countries, practical courses are scarce in medical education. In Japan, it is getting more difficult to acquire excellent graduate students due to the population change.
Objectives
1) To improve the medical education in developing countries by fostering skillful faculties.
2) To sustain the level of medical research in Japan by acquiring excellent graduate students.
Overview
Faculties and undergraduate students in Myanmar and Indonesia are accepted as graduate and undergraduate students in Okayama University, respectively. The faculties learn the design and teaching methods of practical courses for their undergraduate students, in addition to carrying out their own research work. After returning to their home countries, they will become leading faculties in their medical education.
Achievements
Five faculties and 15 undergraduate students have been accepted from Myanmar and Indonesia. This teaching and learning system has been creditized in the PhD course.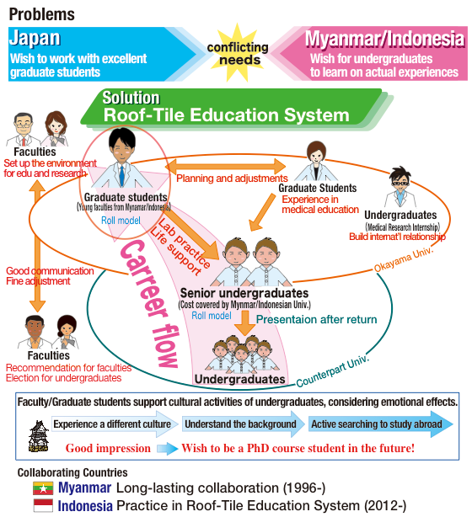 Staffs