Development of Human Resource of Emergency and Disaster Medicine
Myanmar is prone to natural disasters, but there has been no disaster medical education system, which is an urgent issue.
The purpose of this project is to contribute to the strengthening of national response capabilities by providing training in disaster medicine to faculty members of the Myanmar School of Medicine and Nursing.

Four trainees were invited to Japan for a three-week training program. They learned about Japanese emergency and disaster medicine through classroom lectures and field trips.


After the trainees returned to Myanmar, they organized a seminar and conducted a training course in disaster medicine cooperated with Okayama University.

Outcomes(FY2019)
Discussions have begun at the Ministry of Health and Sports to formulate a new emergency medicine curriculum for fourth grade medical students, with the addition of disaster medicine.
Responsible for the creation of a deployable disaster medical team to respond to disasters in the country has been designated.
A joint meeting was held with the Ministry of Health and Sports, the Fire Department, the Nursing and Midwifery Association, the Red Cross Society and various other organizations, and it was agreed that they would cooperate in establishing a disaster medical system.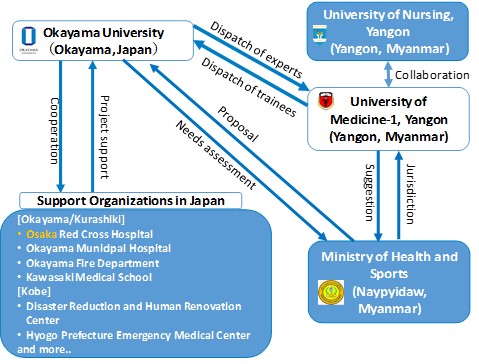 Staffs