Improving nutrition through scientifically profiled natural food resources
Social background
Double Burden Malnutrition (DBM) is a big challenge confronting humankind. Chronic undernourishment, micronutrient deficiency, and accumulation and ectopic deposition of excess fat are factors contributing to the development and exacerbation of metabolic syndrome (MS) due to broken nutrient metabolism, which may lead to unfavorable life prognosis and intergenerational chain poverty.
Objectives of activities
In joint research with a corporation attempting to leverage natural resources against metabolic syndrome (MS), we have exhibited a condition of exhaustion resulting from broken metabolism in MS and also the notable effects of blue-green algae (recommended by UN intergovernmental organizations to support developing countries for the treatment of malnutrition). In addition, we will proceed further with our studies to elucidate its mechanism, seek key factors, develop functional foods, and provide food education.
Overview of activities
We will internationalize education and research and expand graduate school education toward resolving the issue of acute and chronic malnutrition identified by the activities of members of the Myanmar-Japan Collaboration Project for Fostering Medical Human Resources, a non-profit organization. We will conduct awareness-raising based on clear scientific proof and effectiveness.
Expected effects
To improve nourishment by intervention and utilization of food's the physiological function and put an end to intergenerational chain poverty by reducing the risk of developing MS. To discover preventive and therapeutic methods using natural food resources as seeds by paying attention to in vivo redox balance, anti-inflammatory functions and epigenetics.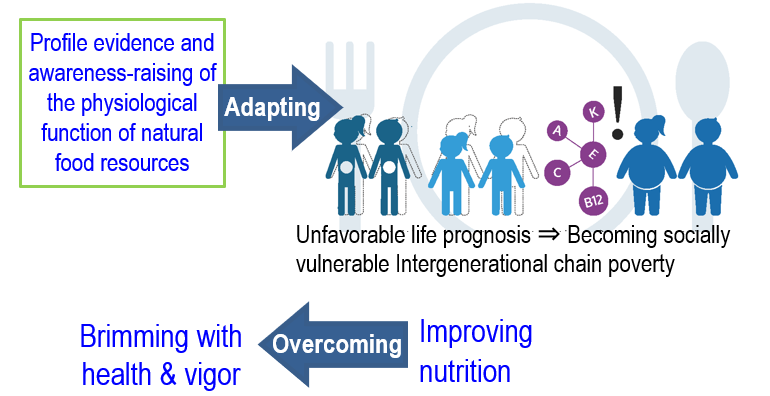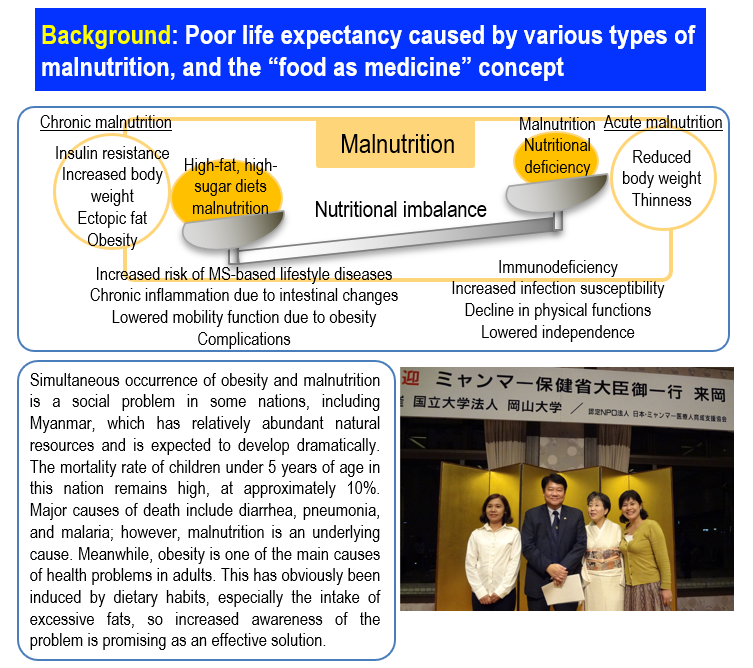 Staffs