Child Health and Environment: A Large Nationwide Longitudinal Survey in Japan
Background
Children are not "little" adults and children are far more sensitive than adults to environmental factors, especially in early development. Moreover, children have more time than adults to develop disease triggered by these environmental factors.
Research activity
To ensure healthy lives and promote wellbeing for children as well as all at all ages, we are analyzing the data from a nationally representative longitudinal survey, known as the Longitudinal Survey of Babies in the 21st Century, conducted by the Japanese Ministry of Health, Labour and Welfare in Japan. The large number of the participants of the survey (roughly 90,000 children) provide us a unique opportunity to examine the possible impacts of the environmental factors on children's health and we provided a lot of evidence from this project.
Perspective
By continuing and extending our project, we aim to contribute to healthy lives, growth, and development of all children not only in Japan but also in the world.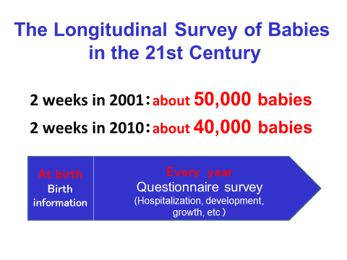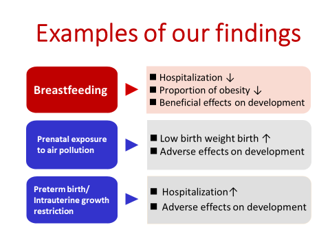 Staffs