Changing international environmental certifications for the smallholders' poverty reduction
Social background
International environmental certifications are market-driven voluntary schemes to promote commodities that are certified by globally-accepted social and environmental standards. These schemes are increasingly recognized by Europe and north America, but it is still less recognized in Asian countries. In addition, small scale producers and traders are less disadvantageous in obtaining these schemes due to the large certification costs, thereby holds a problem to obstruct their poverty reduction.
Objectives
Through the surveys of shrimp industry in Vietnam, the project firstly examine how small producers and traders in the upstream of global commodity chain respond to the introduction of international certification. It then considers the downstream actions and reactions in Japan, by examining prospects and constraints to expand certification market. Finally, by collaborating with companies, NGOs and consumers, it also explores the strategy to improve toward the pro-poor schemes and to further diffuse to Asian market.
Future plan and expected effects
We have already surveyed some reactions in the upstream industry in Vietnam. We will focus more on the downstream reactions and strategies for further diffusion, as well as the follow-up surveys for upstream movements. This project can contribute to change global certification initiatives to more "glocal" ones, as well as to construct sustainable commodity chains by the further diffusion of these schemes.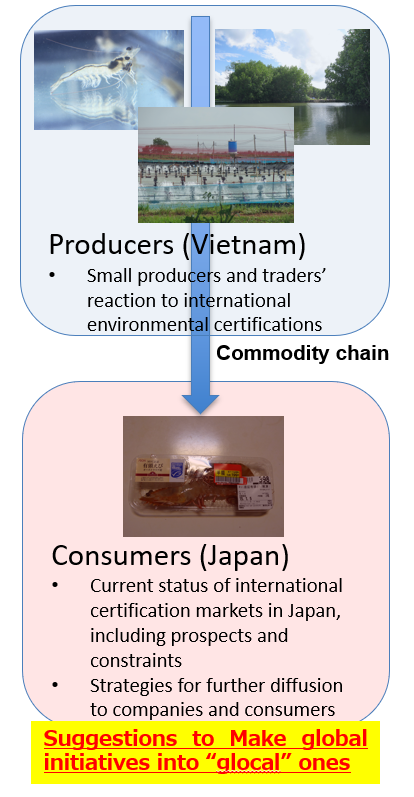 Staffs