Toward the construction of natural capital for the poor
Background
Natural capital, which views (and constructs) the nature as a form of capital, is recognized as an important concept in harmonizing economy and environment. A typical example for this is payment for environmental services (PES), a direct contractual payment scheme to the provider of environmental services, often resource-dependent rural poor, in return for the maintenance of environmental services. In its implementation process in developing countries, however, these poor people are often exposed to various risks, such as neglects of their resource access, unfair and insufficient payments, confusions over the scheme, etc. Their weak negotiation power often impedes re-negotiations in the scheme.
Objectives
Taking examples in Vietnam and Indonesia, this project first examines how the nature is constructed as natural capital in the PES schemes, and identifies the potential risks/benefits to the poor. With the help of other researchers and NGOs, it then monitors the implementation process to prevent disadvantage of the poor. In addition, it also aims to strengthen their negotiation powers by developing "community mapping" technique and the negotiation strategies (i.e. using GIS/drone), in order to support poverty reduction through the construction of natural capital from below.
Future plan and expected results
I have already done some surveys to examine PES implementation process in Vietnam. As a next step I will conduct similar surveys in Indonesia, and will develop "community mapping" technique and negotiation strategies in two countries. This can contribute to develop poor people's capacity to co-produce natural capital for their own future.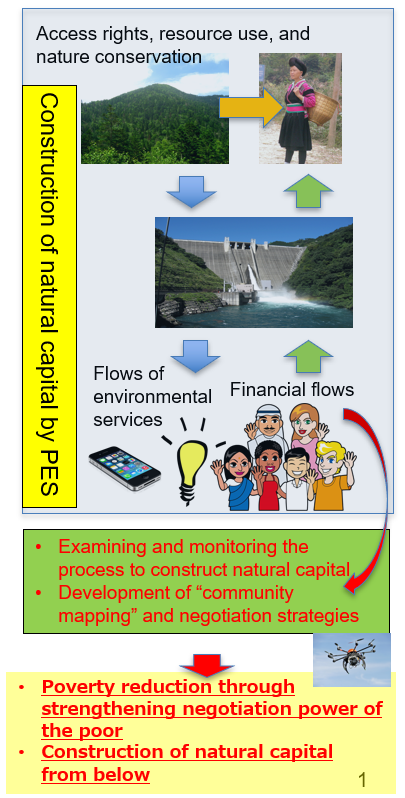 Staffs