Training professionals for sustainable environment and agriculture
Graduate School of Environmental and Life Science aims to train human resources who have international perspectives and leadership that can contribute to the sustainable environmental regeneration and agricultural development in Asia-Africa regions through various programs; such as Special Course on Environmental Rehabilitation in Asia, Minor in Vietnam Rural Environmental Management, Minor in Vietnam Agricultural Development, and New International Doctoral Program for Young Lecturers & Researchers. In FY2007, we set up an overseas office of Graduate School in Ho Chi Minh City, Vietnam and set it as a hub base for the development of various programs in Southeast Asia. At Nong Lam university Ho Chi Minh City, we held a summer school about "Environmental and Agricultural Sciences to Enable Sustainable Development in Mekong Delta" to promote young researchers in Southeast Asia.
In this fiscal year 2018, we are planning to hold an international conference on "Sustainable Environment and Agriculture", as a part of SDGs, co-sponsored with three universities; Nong Lam, Queensland and Okayama. We will also hold summer and spring schools to conduct motivation and excavation of human resources who can contribute to sustainable environmental regeneration and agricultural development. From next fiscal year 2019, furthermore, we are planning to form an international consortium and collaborative projects with the major universities.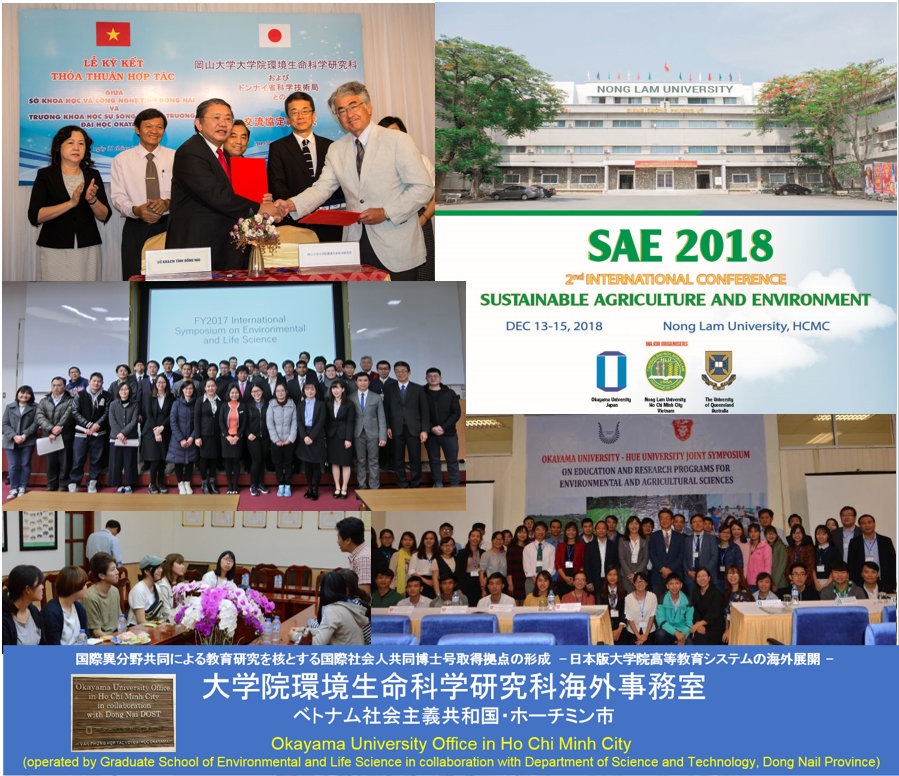 Staffs